Home
/
Discover Almuñecar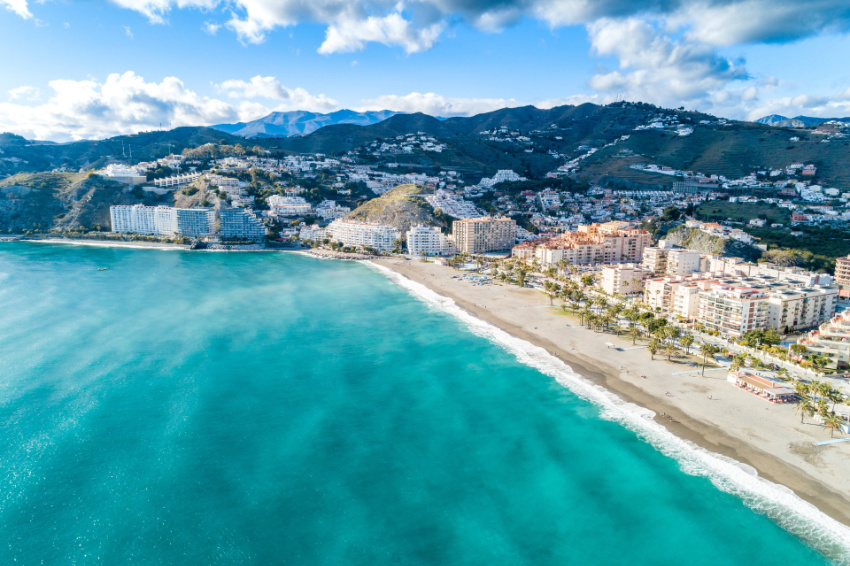 Discover Almuñecar
Almuñecar is located in the Costa Granada, bordering the municipalities of Otivar, Jete, Itrabo, Salobreña and Nerja. His best known festivals are the Holy Week, May Crosses, night and day of San Juan ad the festivities in honor of the patron saint of the town, called Nuestra Señora de la Antigua, among others.
Almuñecar has 26 beaches, located these along 19 km of coastline, among which the beaches of Velilla, Puerta del Mar beach, San Cristobal and La Herradura as they have received the seal of Q for quality. In addition to urban beaches, one can find coves between cliffs, beaches gray and black sand, gravel and nudist beaches.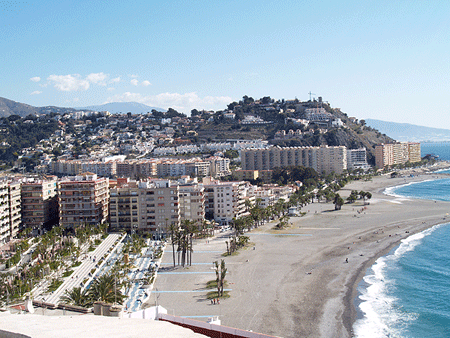 Almuñecar tourists can relax and enjoy the gastronomy, leisure and culture, beaches and learn about their customs and traditions.

This town is located in an ideal place for those who love nature and practice outdoor sports. It has many companies that specialize in offering sports activities such as scuba diving, parasailing, water sports, active tourism, boat trips, diving, hang gliding, paratrike, etc.
For those interested in learning about the culture of Almuñecar, can make sightseeing the Castle of San Miguel, the Center Pottery Municipal, the Mansion of Najarra, the Archaeological Museum "Cave of Seven Palaces" at Aqueduct and Roman Baths, the columbarium La Albina or Cotobro Roman Bridge.

Request a quote
Ask us for a customized quotation with no obligation whatsoever.
Contact us at
If you like nature and travels Almuñecar accompanied by their young children in Premier we recommend you visit the Nature Park "Peña Escrita", the Aquarium of Mediterranean fauna, the Botanical Park El Majuelo and the Ornithological Park "Loro Sexi ". Younger enjoy a magical and unforgettable day being in contact with nature and breathing fresh air.
The gastronomy of Almuñecar is based on seafood such as grouper, sea bass, bream, snapper, sea bream, herrera, conger eel. Also, based on fresh vegetables and tropical fruits such as cherimoya, avocado, mango, papaya, loquat, or guava. In its bars and restaurants tourists can enjoy national and international and creative recipes.
Those wishing tapas to sample the typical food of the municipality, can go to bars known as La Bodeguita, El Lute or Los Pajaritos. Also, they are highly recommended restaurants such as La Muralla, El Meson Gala, Adventure, Los Geranios, La Corrala, the silver sea, or the Gastronomic Restaurant Morgan House Museum.
In this town take place events gourmet cooking as the Food Fair, held in the Botanical Park El Majuelo and the Days of Kitchen Subtropical, where the best restaurants offer their proposals for local recipes subtropical fruits in the area.
Premier we give you the opportunity to travel to this wonderful place in the province of Granada to relax and enjoy the gastronomy, beaches and cultural museums and archaeological sites in the municipality visits. Also, if you are a person who is attracted to natural landscapes and who love to enjoy a day visiting natural areas of the municipality, we will take care of moving to you and your family comfortably to Almuñecar in one of our vehicles high standing.
Decant for our services transfer from Malaga airport if you plan to travel by plane to Granada to visit Almuñecar.
One of our drivers will take you to Malaga airport safely, comfortably and quickly for easy traveling in a Mercedes S Class, Lincoln, Mercedes V, Rolls Royce or a sedan. The Premier will arrive to the airport in a timely manner to avoid losing the plane to Almuñecar.